Work Order Overview
Summary has a new look that is easier to follow
Save as Draft and Publish To Marketplace are easier to access under Summary.
Client and Project are now in the work order create page instead of a pop-up before creating the work order
Templates are easily accessible from the drop down menu
Work Order Title has replaced Title to accurately describe the title
Talent Types are easily accessible from the drop down menu
Contacts & Service Description
Custom Fields has moved lower down the page.
Contacts is updated to an easy to use drop down menu. Choose the Manager and add additional users to the work order.
Work order description and confidential information stayed the same.
The first box is public information, the second is confidential. Only assigned providers will see what's in the confidential box.
Documents can be added below the Confidential information box.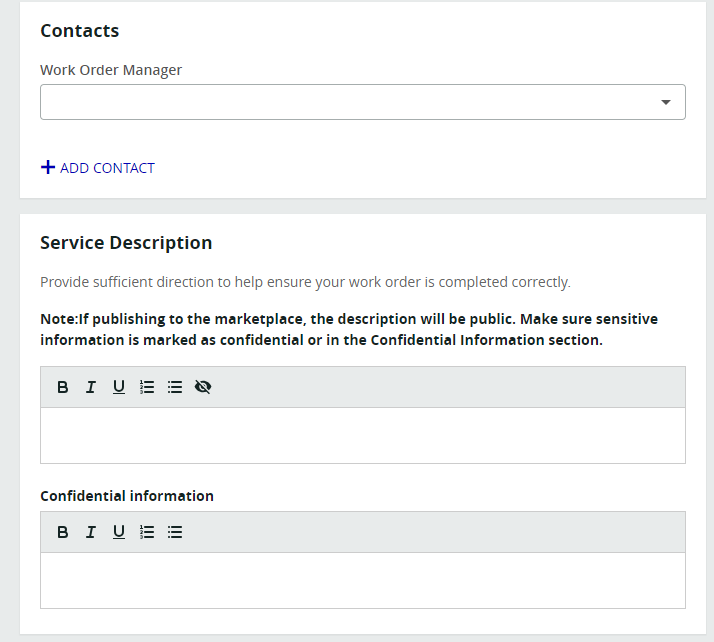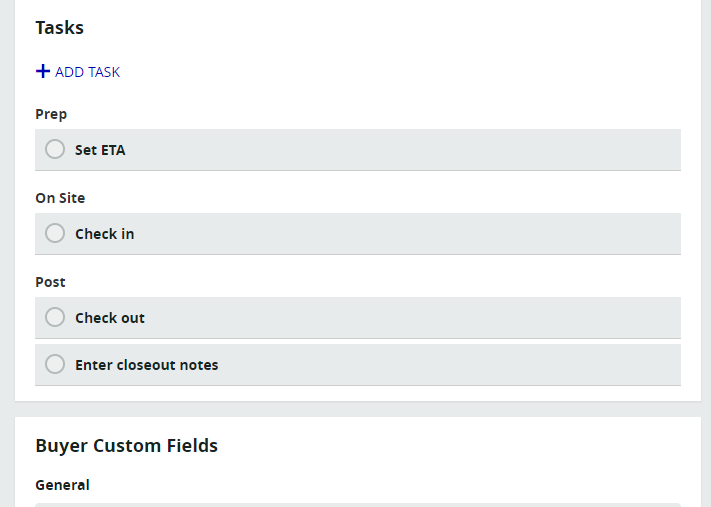 Tasks & Custom Fields
Tasks have a new look and are easier to add.
User can drag and drop Tasks to order in a way that makes sense.
Custom Fields are now below Tasks.
Buyer Custom Fields appear first, with company set fields.
Provider Custom Fields follow with company set fields.
Location
You can now select buttons to easily choose an address.
Select Specify exact address to input a new address. Select Save this location for future use to save for use again.
Select Use saved location to pull an address from a previously used location.
Select Remote (no address) for work that is completed remotely.
Each selection will populate the correlating information
Schedule
To set a schedule, use the drop down menu to choose between arriving at a specific time, between specific hours, or at any time.
After selecting from the drop down menu the date and time fields will populate to the corresponding option.
Select one of the Quick options to choose a time fast.
Pay & Shipments
Select from the drop down the type of Pay offering. Choose Hourly, Fixed, Per Device, Blended.
Once selected, pay amount options will adjust.
Choose a Funding Account from the drop down menu.
Easily add Potential Penalties or Bonuses.
If penalty or bonus is not available, click Configure bonuses or penalties to add new options for future use.
No changes were made to Shipments. Select Add Shipment to include shipments in the work order